i ♥ caramel club
Regular price

Sale price

$27.00

Unit price

per
Welcome to the Sugar + Spoon i ♥ caramel club!
This club is for all of the caramel fans! Receive deliciously addicting, handmade caramels delivered right to your door every 3 months, all you have to do is decide which size box, the rest is handled by us.
the perks . . .
Receive our handmade caramels 4 times a year
10% discount on all caramel purchases
Gift membership available
Priority access to exclusive flavors
Your i ♥ caramel club account will be coded to offer each of the perks above so that they are accessible on all future orders every time you log into your account.
the details . . .
Shipping . . . Shipping is included on each of your i ♥ caramel club shipments. Your initial shipment will be shipped to you within 3-5 business days of joining the club. Thereafter, each of your club shipments will be prepared and shipped at the beginning of each shipment month (December, March, June & September).
Billing Schedule . . . You will automatically be charged for the current shipment when you join, after that, you will be charged at the beginning of each shipment month. Upon shipment, you will receive a shipment notification as well as tracking information so you can keep tabs on your order. 
the fine print . . .
By joining the i ♥ caramel club, you agree to accept 2 full shipments. To cancel your membership, please provide written notice 30 days prior to your next shipment.
Ingredients

pure cane sugar, heavy whipping cream, unsalted butter, non-high fructose corn syrup, whole toasted almonds, French sea salt, freshly squeezed lime juice, instant espresso, coffee extract, splash of lime oil and pure vanilla extract

All of our caramels are Preservative and Gluten free!
Storage

As we don't use any preservatives, our caramels are best enjoyed within 4-5 weeks of delivery. Please store in a cool, dry place, we do not recommend storing in the refrigerator or freezer.
Shipping

We are committed to ensuring you receive the freshest, most delicious caramels possible. Our caramels are made to order each week. In addition to shipping times, please allow 3-5 days for cooking and packaging. If you wish for your order to be delivered at a future date, please include that in the notes section during check-out.
Share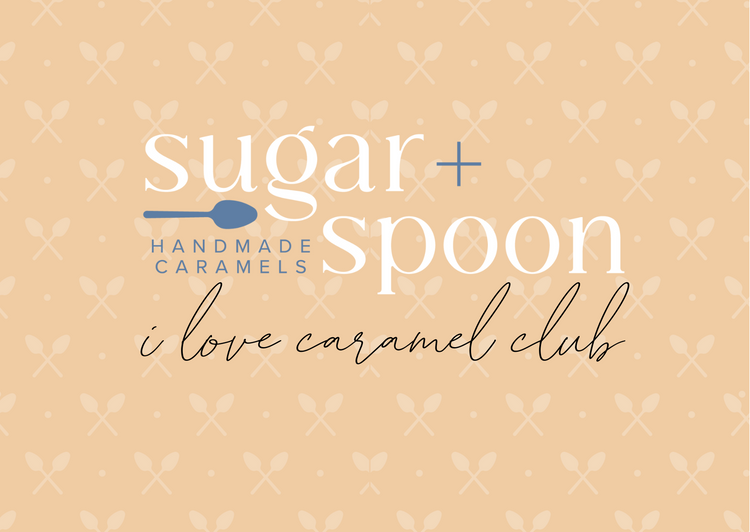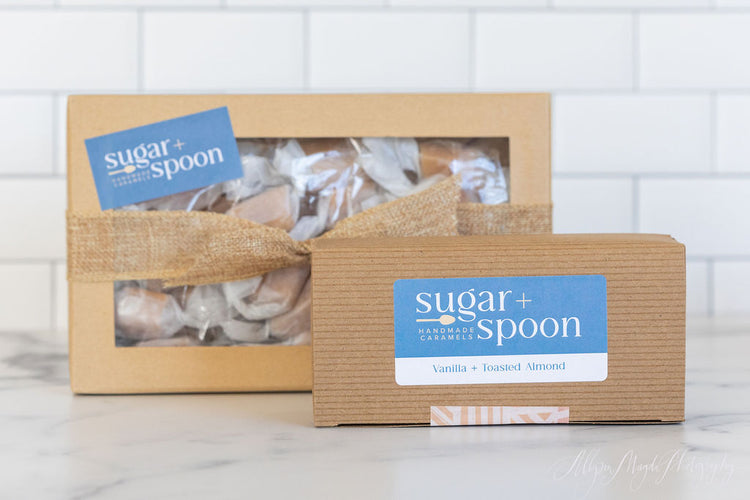 Well done!
Anne, I learned of your caramel business in Paso Robles through Eloise Rendon, my wife's cousin. As she was highly complementary of your products, it was an easy initial purchase. What impressed me was not only the quality of your basic caramel, but the close similarity to a small family caramel business in the suburbs of Detroit, Michigan. They used an old family recipe which would produce a caramel that did not stick to the consumer's teeth or mouth. I met the owner who was introducing their line in an upscale local supermarket about five years ago when we were visiting my brother in Ann Arbor. But, alas, for unknown reasons, after a single shipment by mail, their website disappeared and further inquiries revealed the company had gone out of business. It was during the COVID-19 crisis, but I have no indication of why they disappeared. So it was a real treat indeed to return to having access to such a high quality product. But I am a Type 2 diabetic since diagnosis in 1990, and I have to calculate when it is feasible to unwind one of your caramels to treat myself for being a good boy. And there is a side, nostalgic reason for dealing with your company. In high school and later in my college days, I had two very bright and attractive girl friends named...Anne. I was to later meet Eloise's cousin, Peggy, in Tanzania. We've been married for 52 years, 38 of them in Santa Fe. # Sorry to stretch this out, but I appreciate what you've worked hard to achieve. My father was a small town pharmacist and "The Business" was woven into the family's lives. And if you can ever squeeze out some free time, we advise taking Amtrak out of Paso Robles, changing in LA to the Southwest Chief and getting off at Santa Fe. The specialty here is chocolate and whatever else Eloise might choose to describe. # I think I've "evaluated" enough. Thanks much for what you do. --DG
Im so glad I signed up for the caramel club!
No regrets signing up for the caramel club! Caramels are so so yummy, I ordered the small box and wish I had purchased the next size up! Caramels are so soft and flavorful, literally best caramel I've ever tasted. My favorite is the one with dark chocolate bits but even just the simple vanilla caramel is amazing! Thankful I learned about these during my stay wonderful stay at Summerwood Inn :)
Vanilla Caramels
These are so yummy and buttery. I have to limit myself to two caramels a day, or I would eat the whole thing in one sitting